San Francisco Foods LLC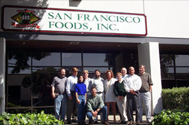 San Francisco Foods LLC is a California based frozen food manufacturer specializing in private label and co-manufacturing. Founded in 1998 by Robert and Ken Steel as San Francisco Italian Foods, the company acquired the name, existing recipes and a 9,900 sq. ft. processing facility from a San Francisco based company formerly operating under the same name.
Rapidly outgrowing its antiquated San Francisco plant, the company relocated in January 1999, to a state-of-the-art 48,000 sq. ft. facility in san Leandro, CA. The facility was then further expanded to 68,000 sq. ft. in 2011. The San Leandro facility is USDA inspected with quality and sanitation playing a key role in daily operations.
The company has produced a variety of products including calzones, deli sandwiches, prepared entrée's, bagel dogs and even appetizer size sliders. The primary end customers are Warehouse Club stores, retail grocery chains, convenience markets and food service companies.
San Francisco Foods maintains a wide range of processing and packaging equipment to accommodate many different types of products and packaging options.